COMO BLACK - THE NEXT GENERATION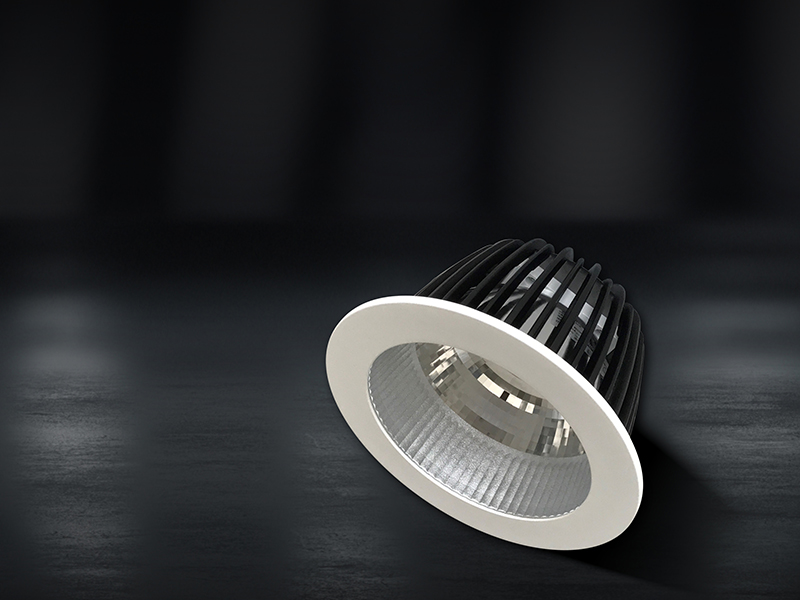 We are proud to announce the release of the COMO BLACK downlight series, an exciting evolution for our celebrated COMO series. The luminaire unites elegance and performance in a stunning display of stylistic and engineering proficiency, creating a bold new flagship in our extensive portfolio of products.
Capable of delivering sixteen light output levels between 800lm – 3700lm (approx. 8W – 41W) in its open reflector, 4000K CRI80 form, it offers designers the ability to fine-tune lighting levels for optimal efficiency.
Building on the superb foundation of the COMO family, COMO BLACK offers a wealth of optic choices, including an open faceted reflector, clear glass, frosted glass, anti-vandal polycarbonate lens, or decorative glass.
The luminaire features a precision-designed two-stage faceted optic: a specular tessellation for control and efficiency atop a radially faceted fine-stipple array for soft, uniform high-angle luminance, delivering fixture efficacy of up to 105lm/W whilst maintaining high visual comfort.
The foundation of the COMO BLACK housing is truly inspired; a radial spokes array emanates from the upper hub, cascading down form the lower mounting plate, the black powdercoated die-cast aluminium construction filling the role of both structure and heat-dissipation. A stylish trim ring in powdercoated die-cast aluminium bayonet-fixes to the mounting plate for longevity and modern aesthetics. For amenities and other applications where splash-resistance is required, COMO BLACK lens options are IP44 from below the ceiling (Décor glass versions are not IP44).
Standard driver options for the COMO BLACK include fixed output, phase cut dimmable or DALI dimmable (all remote). Standard in CRI80, it offers colour temperature choices of 4000K or 3000K and trim finishes in black or white.
The COMO BLACK is suitable for commercial and retail applications.
For more information click here to visit the product page and find out how the COMO BLACK can provide you with a great solution for your next project or application.
Alternatively you can contact us on (03) 8878 2000 or send an email through to [email protected] to find out how we can assist you further.
Download the new COMO BLACK brochure PDF (2MB), or request your copy today!