Old Scholars' Science Centre Building, Loreto College - Marryatville, South Australia
Loreto College is a private Catholic boarding school for girls at primary and secondary levels. Located 4 kilometres from Adelaide's CBD in Marryatville, South Australia, 1,000 students are enrolled at the school including 70 boarders. A new state-of-the-art Science Centre has been built with five laboratories, multiple breakout learning areas and an undercover learning space extending into the gardens. The new purpose-built facility is to provide students with the right fundamentals to further develop their skills and knowledge, with the aim of inspiring the next generation of scientists.
Working in close collaboration with MPH Architects and Partek Construction & Interiors, Versalux designed and implemented a lighting solution that would define the Old Scholars' Science Centre. The aim was to connect the students with the entrance and exiting space by a clear, lively architectural lighting effect to form an attractive environment promoting creativity by design, while upholding the schools strong values and identity.
TOOB luminaires were selected as the sole fitting for the solution that would transform the transit zones of the facility. The concept was to utilise the form and characteristics of this attractive luminaire family to depict chemical compounds and abstract molecular structure, whilst providing a homogenous and balanced light distribution. The TOOB fixtures were wire suspended quickly and easily via their adjustable stainless steel components directly from the panelled plywood ceilings. The resultant combination of lines and hexagonal shapes portrayed by the TOOB call to mind organic chemistry and the fundamental building blocks of matter and life itself.
The tubular TOOB LED luminaires are specifically designed to deliver optimal vertical illumination and horizontal uniformity. The powerful optics reduce shadows and unwanted glare for students and faculty whilst providing the appropriate lighting levels. Through the stylish depiction of bonded atoms, the TOOB blends in very well to the surrounding architecture and connects the multi-purpose teaching spaces safely when transitioning between corridors, laboratories and learning spaces, sparking communication and collaboration for students and teachers to better utilise the new centre's facilities with the goal of further enhancing the skill set of tomorrow's leaders today.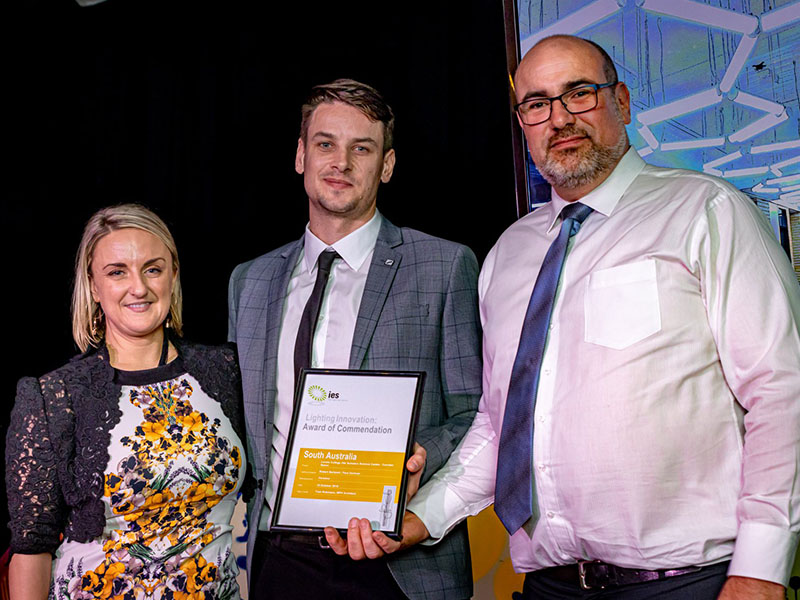 The Old Scholars' Science Centre, Loreto College project won the following award:
• 2019 IES SA/NT Chapter Award – Lighting Innovation: Award of Commendation.