Which Task Light?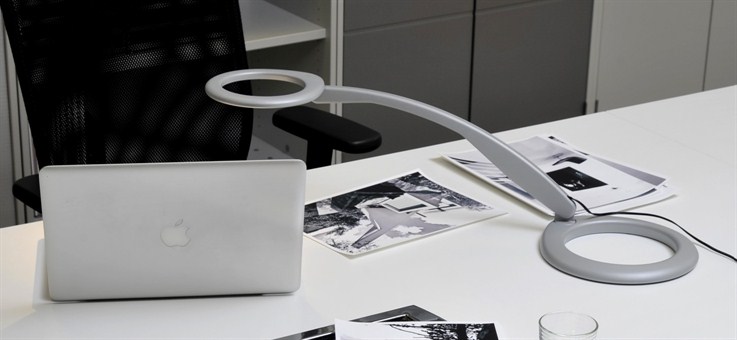 When choosing your task light, your individual and personal requirements should be taken into account. So should your age. The need for light increases dramatically with age and should have an impact on your choice of task light.
Find the Luxo task light that's right for you!
All our task lights fulfill the illuminance requirements of a minimum average of 500 lux on the desk surface. However, on the basis of size and functionality, some are best suited to smaller sized desks. For medium to large sized desks we offer task lights with a choice of asymmetric or symmetric light output.
Asymmetric light output
Symmetric light output
The best solution for achieving optimal workspace lighting is an asymmetric task light.
Ergonomically designed task lights distribute light evenly across the working area. Importantly they prevent reflection and will not cause any discomfort to colleagues. The even light distribution eases the transition between light and dark areas on the working surface and allows your eyes to work in a constant, comfortable light.
Task lights with symmetric light output provide more light on the surface of a condensed area. They are particularly good for inspections and performance of visual tasks of low contrast and small size.
Weigh up your options
The following table compares some of the most important selection criteria for a task light.
360
Air-LED
L1-LED
Ninety
Ovelo
Terea




LED

360

•

Air-LED

•

L1-LED

•

Ninety

•

Ovelo

•

Terea

•


Asymmetric Light

360

•

Air-LED

•

L1-LED

Ninety

•

Ovelo

•

Terea

•


Symmetric Light

360

Air-LED

L1-LED

•

Ninety

Ovelo

Terea




Dimmable

360

•

Air-LED

•

L1-LED

•

Ninety

•

Ovelo

•

Terea




Auto-off

360

4hr/9hr

Air-LED

4hr/9hr

L1-LED

4hr/9hr

Ninety

9hr

Ovelo

4hr/9hr

Terea




Small Desks

360

•

Air-LED

•

L1-LED

Ninety

Ovelo

Terea

•


Medium Desks

360

•

Air-LED

•

L1-LED

•

Ninety

•

Ovelo

•

Terea

•


Large Desks

360

Air-LED

•

L1-LED

•

Ninety

•

Ovelo

•

Terea




Flexibility

360

High

Air-LED

High

L1-LED

High

Ninety

Medium

Ovelo

High

Terea

Medium