Three awards for Versalux at the South Australian IESANZ Lighting Awards 2019
Versalux was proud to be a major sponsor of IESANZ at the SA/NT Lighting Awards 2019, one of the lighting industry's most celebrated events in Australia and New Zealand.
The IESANZ Lighting Awards for South Australia and Northern Territory Chapter took place on October 19th at the Published Arthouse situated in the vibrant Adelaide CBD. The night was attended by designers, architects, engineers, and suppliers who were entertained throughout the evening by a talented MC, performers and industry guest speakers, culminating in the most important part of the night, the presentation of 13 awards (5 Excellence awards and 8 Commendation awards).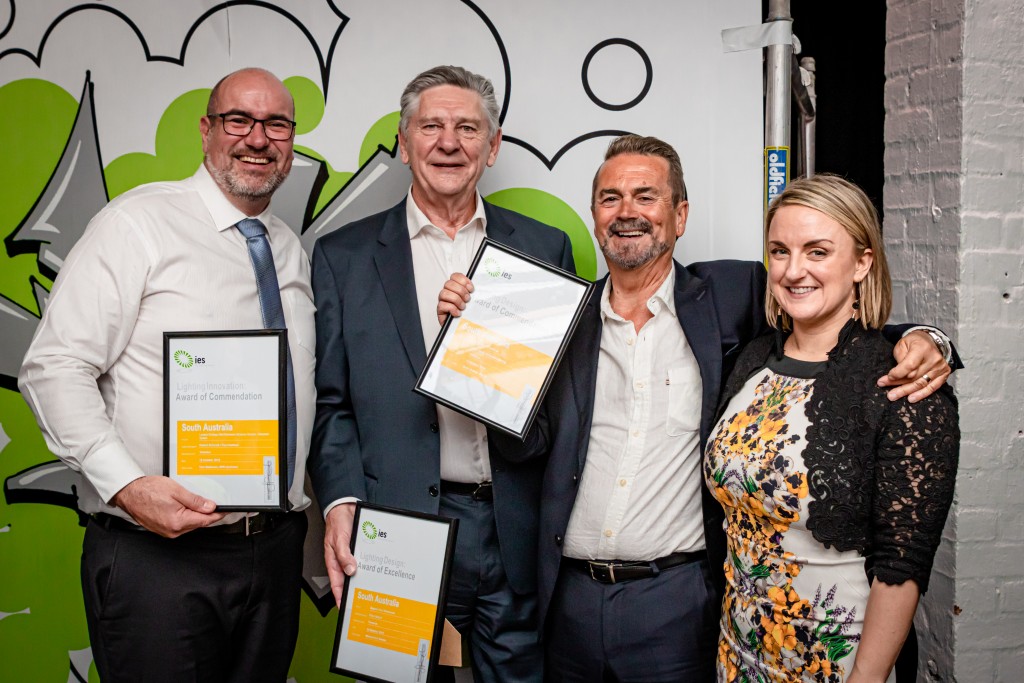 Pictured L-R: Paul Zechner (Lighting Engineer), Peter Sword (Director), Peter Ruiz (State Manager SA/NT) and Jenny Petschenyk (IESANZ SA/ NT Chapter President)
Peter Ruiz – State Manager (SA/NT), Paul Zechner – Lighting Engineer, Peter Sword – Director and John Beagley – Joint Managing Director collectively attend the event and were honoured to be presented with three awards:
Lighting Design: Award of Excellence – Zagame Automotive Group Showroom, Frewville, SA.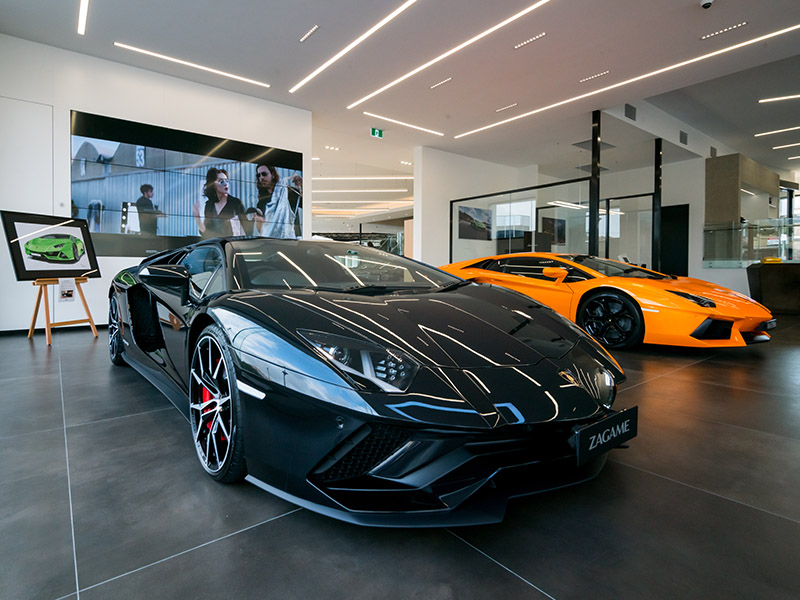 The Zagame Automotive Group dealership sells some of the most iconic, prestigious and luxurious automobiles in the world and delivers the ultimate customer experience. This exciting project saw Zagame Automotive Group launch its brand-new premium car dealership and service centre in Frewville, South Australia. Versalux collaborated closely with Bobby Zagame, Managing Director of Zagame Automotive Group, and David Earle, principal of Architects & Project Coordinators. The lighting system produced exceptional illumination to highlight world-class motor vehicles (Bentley, Lamborghini and McLaren) and perfectly aligned with the brand's images and architecture of the dealership. Commercial grade luminaires were utilized from Versalux' impressive product portfolio, delivering the image of exclusivity, and aligned the Versalux brand via a strong association of prestige and class associated with Zagame Automotive Group.
Lighting Design: Award of Commendation – Foodland, Mount Barker, SA.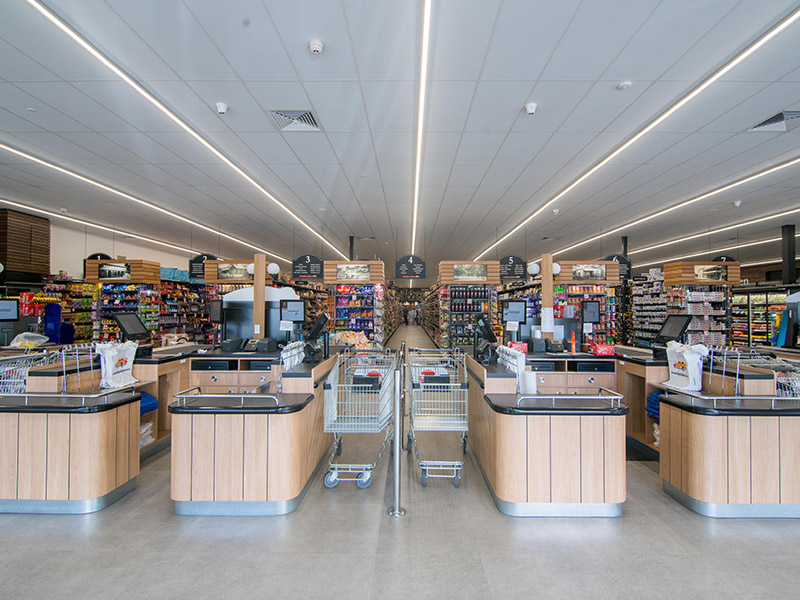 Foodland is one of Australia's biggest supermarket brands, with 120 shops across South Australia and the Northern Territory. Foodland worked in conjunction with DBR Projects and Versalux to complete a major refurbishment for their Mount Barker store. The retail lighting solution devised by Versalux transforms the look and feel of the grocery store, and creates a positive ambience for customers to shop in. It cleverly draws attention to the staged merchandise, while preserving a coherent brand image as a contemporary supermarket retailer.
Lighting Innovation:Award of Commendation –Old Scholars' Science Learning Centre, Loreto College, Marryatville, SA.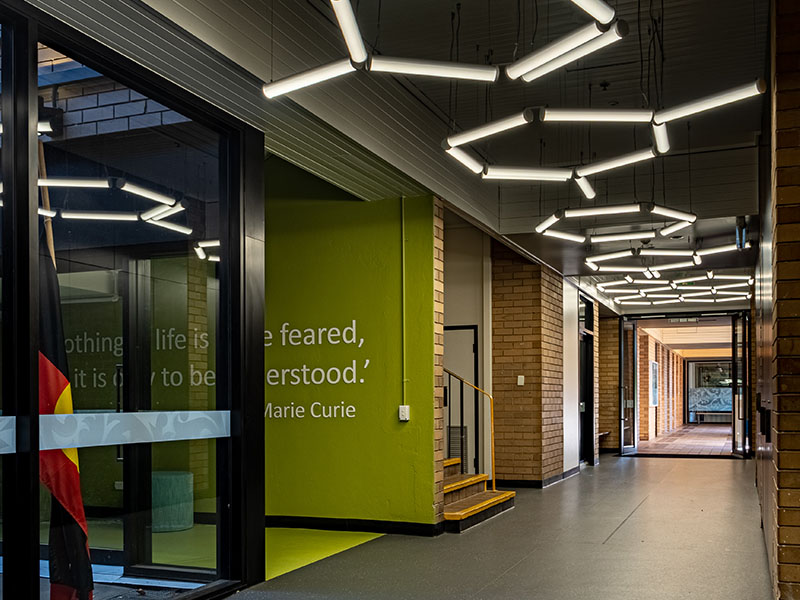 Loreto College is a private Catholic primary and secondary school for girls. Versalux has worked closely with MPH Architects and Partek + Interiors to redefine the Old Scholars' Science Centre, developing a lighting system that represents the architect's vision by connecting through lighting a science learning space to a personalized layout. The abstract molecular structure depicted chemical compounds relevant to the field of science. Seen as a learning tool, the luminaires appear to float bringing the corridor space to life, providing vertical illumination and horizontal uniformity creating thereby an impressive lighting feature and vibrant multi-purpose space.

"We are extremely proud to have won three awards with many strong contenders at this year's IESANZ Awards Night" said Peter Ruiz, State Manager (SA/ NT). "Winning three awards in various categories from IESANZ confirms to the lighting industry and the public that we continue to maintain our credibility as well-established lighting experts. This year marks a significant milestone in our history and heritage, marking 40 years as an Australian owned and operated business, in the dynamic and ever-changing world of lighting. We would also like to thank all our project partners working collaboratively together in each of the three projects (Zagame Automotive Group Showroom, Loreto College and Foodland) to ensure each solution was compliant, safe, innovative and bespoke.
The IESANZ Lighting Awards provide an opportunity for public and industry recognition of professionalism, ingenuity and originality in lighting and luminaire design.
As winners of three category awards of the IESANZ SA/NT Chapter, Zagame Automotive Group Showroom, Loreto College and Foodland will now be considered for the national IESANZ award.